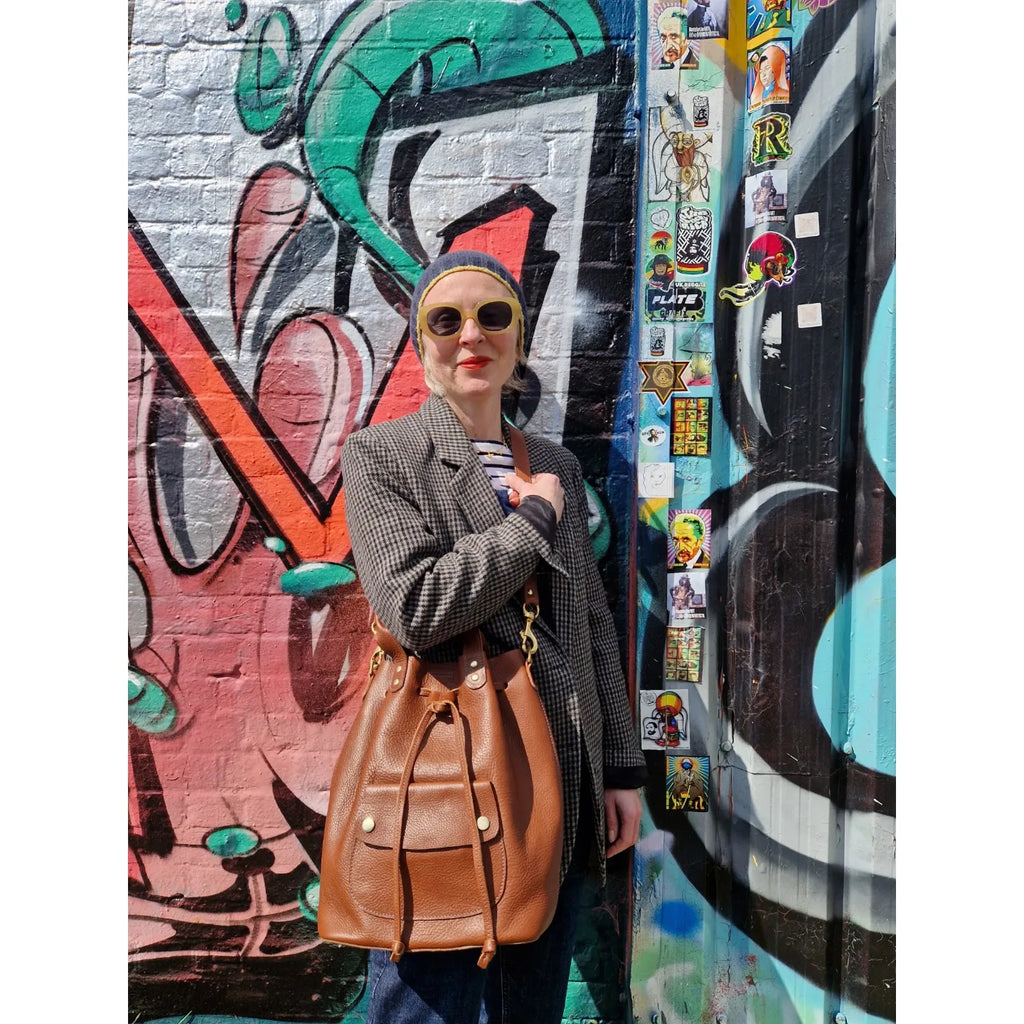 The Markwick drawstring bag Chestnut
£380.00
 The Markwick Drawstring bag is named after the genteel Arboretum in St Leonards on Sea.  It's a hidden gem of a park sitting behind gates where friendships are formed whilst walking along its gravel paths and dogs chase eachother round the base of Twisted Hazel trees and sniff the tips of Monkey Puzzles.
Markwick Terrace is home to an elegant row of tall Victorian stucco front houses with filigree wrought iron balconies. You can feel the history of this once wealthy Regency pleasure town as you walk along its railings and step inside the grounds.
The bag was created out of a desire to continue the joy of St Leonards' ethos of style AND practicality, as well as adding a hands free rucksack dimension, perfect for dog walking along the St Leonards prom.
It's been a long time coming. For some customers, it's been about 11 years coming. You asked for a bag that was also a rucksack and I tried different prototypes but it just didn't feel right - they were either too bulky - too much like 1950's camping equipment, or just not good enough for the brand. 
Designing bags is rarely about coming up with something NEVER SEEN BEFORE - We all know what a bag should look like and yet - the bags that are the best, often do so without shouting their C.V out to the world - the handles fit just right, inside your palms, the straps sit nicely and never chafe or slip off, the leather moulds and softens to your particular hue - it all happens as if by magic.  
In fact, good design is often so subtle - everyone thinks they can design a great bag. But I know that isn't the case. It takes time - and often, like a fine wine maturing - the thinking and waiting time is longer than the active making one.
So, The Markwick is a unisex drawstring tote bag made from the original Bubble tan shoulder leather that all St Leonards bags started out from. The bag is unlined for that authentic fuss free durable style. The hardware is steel plated in brass or solid brass and built to last.
The bag works 4 ways:
1 - Shoulder bag
2 - Cross body satchel style bag
3 - Rucksack with adjustable strap lengths
4 - Grab handle carry bag
Dimensions:
40cm wide when opened fully 
23cm wide when tied up by drawstring
33cm tall from base to opening
25cm x 17cm base with curved corners
Carry handles are 2.5cm wide and 14cm from apex highest point to top of bag
Detachable straps are 2.5cm wide and adjustable for wearing as shoulder bag, satchel and rucksack.
There is one external patch pocket with the signature St Leonards curves shape NB - there will be 2 press fasteners on the finished production pieces.
There is an internal zipper pocket to keep your keys and personal items safe. 22cm wide x 16cm tall
Currently only in classic Chestnut Brown and Cinder Black 
IF ever there was a bag that represented the St Leonards ethos - this is it - it's the Burton Bag for the new phase of the business ...
Enjoy looking at it... K x